December 23, 2015

November 05, 2015

June 23, 2015

Partners
The Information Architecture Institute partners with other organizations to advance its mission. (If you are looking for the people who lead the Institute, go to our People page.) Partnerships may include agreements to exchange resources, interoperate technically, and act together to form a community of people and ideas.
Interested in becoming a sponsor or a partner? We consider specific proposals that tangibly benefit both your organization and the Institute. Send us your proposal.
Need a logo? IAI logos and usage guidelines.
Organization Partners

The American Society for Information Science and Technology's Information Architecture SIG is the home of the SIG-IA mailing list and the ASIST Bulletin. The Bulletin's IA Column, edited by IAI board member Stacy Surla, features guest writers from the field of IA. Visit their site to read the current IA Column.


Boxes and Arrows is an online journal dedicated to understanding the design of the architecture and structure of digital spaces, and often features articles on the craft of information architecture.

The Interaction Design Association (IxDA) is a non-profit professional organization whose focus is promoting both the field of interaction design and the interests of an international community of practitioners, managers, educators, and students of interaction design.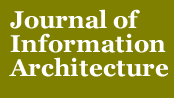 The Journal of Information Architecture is an international peer-reviewed scholarly journal. Its aim is to facilitate the systematic development of the scientific body of knowledge in the field of information architecture.

The Information Architecture and Knowledge Management (IAKM) program at Kent State University provides opportunities for study in user experience design, knowledge management, and health informatics. Students may study through a Master of Science, graduate certificate program or individual courses as continuing study. Kent State is an original collaborator on the Education Curriculum initiative.

The New York Technology Council (NYTECH) is a membership-driven, 501(c)(6) non-profit organization focused on developing and promoting the technology industry in New York City.
NYTECH offers events throughout the year at which we present speakers and discussions on topics related, but not limited to UX design, mobile applications, cloud computing, digital marketing, globalization, funding, investing, legal and accounting. In addition, they run a CEO Roundtable and collaborate with local organizations on joint activities and programs such as networking events, advocacy trips to Washington, D.C., and major speaking engagements.

SEGD, the Society for Experiential Graphic Design, is the more than 1,300 members who work in the planning, design, fabrication, and implementation of communications in the built environment. SEGD is guided by a Board of Directors, which creates policies and programs to grow, enrich, and provide educational resources to the community. A strong network of Chapter Chairs represents SEGD at the local level, providing a vital liaison role between local members and the Board of Directors. A diverse professional staff implements Board initiatives, provides member support, and works to provide new services and resources for the SEGD community. IA Institute members can register for their Xlab conference at SEGD member rates.


The University of Baltimore School of Information Arts and Technologies offers an M.S. in Interaction Design and Information Architecture. The University of Baltimore is an original collaborator on the Education Curriculum initiative.

The UXPA supports people who research, design, and evaluate the user experience of products and services.


The Web Indexing SIG of the American Society of Indexers promotes the human indexing of Web sites and HTML documents. Its members are professional indexers who have skills to create A-Z site indexes or perform metadata indexing of HTML documents. The SIG web site provides resources on web site indexing for the broader IA community.
Partnerships with Member Benefits

18% off Justinmind Prototyper


20% off Optimal Workshop

20% off ProtoShare

20% off Rosenfeld Media


AIIM online courses
All programs at AIIM member prices

35% off Peachpit Press
For discount codes or questions about member benefits contact membership@iainstitute.org. Members can also login to our member center and visit the Member Discounts link.
Justinmind Prototyper wireframe tool allows you to skillfully design and validate high interactive wireframes of your Web and Mobile Applications without writing a single line of code. Justinmind is offering a special discount of 70% to IA Institute members.
Optimal Workshop has designed a suite of usability tools that can help you run simple user surveys and get the data you need to define and tune your information architecture. The IA Institute has negotiated a special member discount of 20% on any Optimal Workshop subscription. Choose from OptimalSort, Treejack or Chalkmark, or purchase all three by choosing the Optimal Workshop Suite. The discount is valid for any subscription length.
AIIM online certificate programs provide vendor neutral training in technologies and global best practices for managing and utilizing information assets. Programs include: Enterprise Content Management, Electronic Records Management, Business Process Management, Information Organization and Access, Enterprise 2.0, Email Management. IAI members are eligible for AIIM courses at the AIIM professional rate!
Rosenfeld Media publishes short, practical, and useful books and webinars on user experience design. Their products explain the design and research methods that web professionals need to make informed design decisions. IAI members a discount of 20% off book purchases as well as both live and recorded webinars.
Peachpit Press is home to a wide selection of beloved series including the Visual QuickStart Guides, Hands-On Training titles, Wow! books, and more. IAI members receive 35% off book purchases.
This page was last modified on November 16, 2013 12:20 PM.