Member Log in to the IA Institute Member Center to update your profile, renew your membership, search the member directory, and connect with a mentor.
Opportunities
For a list of roles we are currently recruiting volunteers for check out our opportunities page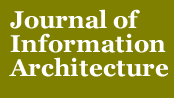 Experience the Journal of Information Architecture, an international peer-reviewed scholarly journal whose aim is to facilitate the systematic development of the scientific body of knowledge in the field of information architecture.
[read more]
Become an IAI member today.
By joining the Information Architecture Institute you will be supporting a global community seeking to empower local communities to shape the global practice of information architecture
Public Initiatives created and supported by IAI members:
World IA Day Our worldwide, annual celebration of Information Architecture
Post and view jobs on the IA Institute Job Board
Submit and view great docs at the IA Library and Tools.
Translations, free discussion lists, local groups, salary survey, grants, and more...
Keep up with our latest news and events
[subscribe today]
Post a new IA job or view job offers by criteria.
The Mentoring Program matches experienced IA professionals with IA practitioners and newcomers to the field.
[more]