Log in to the IA Institute Member Center to update your profile, renew your membership, search the member directory, and learn about our other new community tools.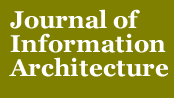 Experience the Journal of Information Architecture, an international peer-reviewed scholarly journal whose aim is to facilitate the systematic development of the scientific body of knowledge in the field of information architecture.
[read more]
Member Benefits
Help to shape the global conversation about information architecture.
We at the IAI seek to empower local communities to shape the global practice of information architecture by providing opportunities to promote excellence within our field and build bridges to related disciplines and organizations through research, education, advocacy and community service.
It is part of our mission to preserve and make accessible the current and historical thought record of the practice for use by everyone for free in as many languages as possible.
If you believe in our mission, consider becoming a member today.
Membership Benefits
As a paying member* of the IAI, you will have the following member benefits:
IAI member discounts at partner events: Receive discounted registration at popular conferences like the IA Summit and Euro-IA.
Directory of IA professionals: Listing in and unlimited access to our industry's most comprehensive list of professionals interested in information architecture.
Support infrastructure: We are a home for our members' volunteer and community efforts. Beloved institutions like the IA is IN, The Journal of IA and World IA Day were once just ideas but our support infrastructure helped bring them to life
Mentoring program: Our volunteer based mentor program gives you one-on-one contact with a seasoned practitioner so you get to whatever the next step is in your career.
Volunteer and collaboration opportunities: As a member you will be well aware of opportunities within the IA community to give your time on worthy projects that can help you grow your portfolio and your network of contacts.
* Free Members do not have access to mentors or discounts.
Your donations matter
IAI Members fund all of our volunteer programs and free public resources through their annual dues. We only ask for $50 a year from professional members and even have a discounted rate for students to receive full access.
Your donations will support:



Maintenance of a multi-language website with a completely volunteer-powered translations program offering new resources for IAs around the world.


Support for an international calendar of events including World IA Day, which will be held in 38 cities in 2015

Hosting for a growing directory of online job listings and subscription to the job board mailing list.


Growing online library of freely available articles, methods and best-practices for learning, teaching and practicing information architecture.


Development of downloadable tools to help you improve the quality of your work.


Unique research reports on IA topics, including position papers, salary surveys, editorials like the Journal of IA.


If you have any questions about membership, your account, or would like to know how you can become more involved in the IA Institute, contact the Membership Coordinator at membership@iainstitute.org.
Partnerships with Member Benefits
Social Networking Tools
This page was last modified on October 29, 2008 03:22 PM.