Log in to the IA Institute Member Center to update your profile, renew your membership, search the member directory, and learn about our other new community tools.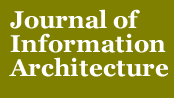 Experience the Journal of Information Architecture, an international peer-reviewed scholarly journal whose aim is to facilitate the systematic development of the scientific body of knowledge in the field of information architecture.
[read more]
OptimalSort

Organizing and classifying information can be tough. OptimalSort can help.
OptimalSort helps you understand users' perspectives on your content. Using card sorting, you can better organize information so that it is easier to find.
OptimalSort is card sorting made easier and more powerful than before.
The IA Institute has negotiated a special discount of 25% with OptimalSort for our members. For details contact membership@iainstitute.org. You can also login to our member center and visit the Shop IAI link.
Prices:
30 day subscription $109 USD, IAI member price $81.75 USD
90 day subscription $199 USD, IAI member price $149.25 USD
Annual subscription $559 USD, IAI member price $419.25 USD
This page was last modified on April 22, 2008 12:25 AM.