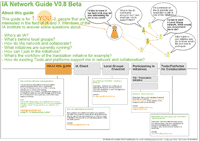 We have created a networking guide to help people interested in the field of IA and IAI members answer questions about...
Who practices IA?
What's behind local groups?
How do IA pros network and collaborate?
What initiatives are currently running?
How can I join in the initiatives?
What's the workflow of the translation initiative for example?
How do existing Tools and platforms support me in network and collaboration?
[download]

Volunteer Opportunities
The IA Institute is a group of multinational of volunteers who supply the ideas, initiative, and energy it takes to provide services to the IA community. Join that effort by taking on a volunteer role today. Learn more about our volunteers here.
The Institute can provide assistance for volunteer initiatives with expert review, infrastructure, and money. Please contact us at volunteer [at]iainstitute[dot] org if you are interested in learning more about any of our projects or have you an idea of how you can help. Or choose an already defined project from below:
Current Volunteer Projects
Help Us Migrate our Websites to a New Hosting Provider
Due to hardware issues with our web server, the following sites went down on Friday, November 6 at 4:30am PST (7:30am EST, 1pm CEST):
* http://iainstitute.org
* http://journalofia.org
* http://ideaconference.org
* http://iainstitute.org/minutes
Our hosting provider identified issues with the hardware housing our server and replaced it. That failed for unknown reasons. They moved on to different hardware and have been experiencing odd high loads, which prevented all sites from returning smoothly. They are still working on the issues but have no estimate of when it will be fully resolved.
Right now, all site are available but suffering from slow performance.
Livia Labate is monitoring this issue until it is resolved, in the meantime, she has started to evaluate new hosting providers. We have been with this provider for 8 years and while they are affordable, their reliability has occasional problems and their customer service has increasingly deteriorated.
For a community like ours where volunteers are working on multiple things and know how to fix problems when they appear, we need a provider that can be relied upon and respond quickly to our needs.
We had decided mid last year to not find a new provider because the switching costs of our current infrastructure are high, given that we have 8 years of code from hundreds of volunteers across various sites. We were planning on waiting until we had made some infrastructure improvements, however, Livia consulted some system administrators who advised her (in face of this current problem) to switch hosting before our planned platform transition.
Please volunteer to help with this process. Here are some of the activities we will need to perform to get started where your help will be much appreciated.
- inventory current technology
- diagram system relationships
- review all current initiatives
- capture technical requirements
- perform tech gap analysis
- define requirements for future system
- select technology platform
- assist with documenting infrastructure roadmap
- evaluating and comparing hosting services
- contacting providers and discuss pricing/service
- project manage these activities
- coordinate volunteers
- and much more...
If you just want to recommend a service provider you have experience with or one to avoid, please see this spreadsheet: http://j.mp/webhosts - Many have already contributed.
Please email Livia Labate (liv at livlab dot com) DIRECTLY if you can help. If you have any questions about this or any other IA Institute related issues, reach us on info at iainstitute dot org, or follow us on twitter @iainstitute.
On-Going Volunteer Projects and Initiatives
Website Content Designers
If you have a knack for analysing and illustrating user processes and scenarios, let us know. Wolf Nöding's Networking Guide

is a fantastic illustration of how IA pros meet and interact through the IA Institute. We would love to incorporate similar diagrams outlining how to get or become a mentor, how to create a local group and how to apply for a grant.
Grant Researcher/Writer
If you have experience researching non-profit grants and would like to help the Institute research grant opportunities and approach and work with funding resources to support our infrastructure development and member initiatives, please contact us at volunteer[at]iainstitute.org.
Mentoring Program
Mentoring Program Manager: The leader of the mentoring program will manage a volunteer team to administer and develop improvements to the current mentoring system to ensure fruitful and timely communication among participants.
Mentoring Program Coordinator: Along with the project manager, you will review new registrations, suggest potential mentor matches and make introductions where necessary. You will provide monthly updates to members on mentor availability and new program features. This position requires some experience with mentoring, since often our protégé applicants need assistance in developing goals and approaching mentor candidates.
Mentoring Program Website/Database Developer: You will work with the IA Institute technology team to develop requirements/recommendations for integrating mentoring system functionality into the new member database system (Drupal based) we are investigating to replace our current system.
Interested? Contact mentoring[at]iainstitut[dot]org.
New Initiative Leaders
We are looking for experienced IA practitioners to lead a number of ongoing projects, primarily re-imagining the presentation of our online resources: IA Library and Tools, IA Courses and Degree Program listing, IA Network listings. Some suggestions for future projects have included improvements to the IA Directory map, developing a "Mentoring Marketplace," reviving various IA Industry Surveys, etc.
If there is a topic or tool that you would like to develop for our members, send your suggestion to us at volunteer[at]iainstitute.org.
Local Groups
Be a Local Leader — Local Group leaders needed to organize local IAI groups, including local summits, presentations, cocktail hours, etc. This is an ongoing commitment of a few hours a month to organize and attend meetings of your group's choice.
Website Developers
IAI is looking for volunteers with php skills and/or experience with MovableType to help publish some exciting new language sites, content, and pages. Join the website team and get a chance to help a great global project launch on the web.
Photographers, Amateur and Otherwise
The IA Institute is about people meeting people, informally and at planned events. If you have any photos from IA Institute related activities, send them to us at operations[at]iainstitute[dot] org
Translations Team Members
Join a language team! Teams need assistance with translation, navigation, and moving translated content into the new website framework. If you aren't able to translate the words but have html/css knowledge, you can still make a great contribution to the web development. Many sites are translated and ready to go, we only need a few of your hours to bring them to the public.
If you don't see your language or if your language site seems to be a bit low on content, we'd love to have your help! We have a list of articles waiting to be translated from English to your language. In fact, we would love to find out what is going on in your area and provide details to our members in your language. If you have news, events or articles you would like to submit, we can add them to your language site. We can also add articles translated to English to bring thought leadership to a wider audience.

If you don't have time to volunteer right now but know of tools and resources that our members may benefit from, please let us know:
The IA Library is a repository of information about Articles and Papers, Blogs, Columns and Journals, Books, Organizations, Conferences and Mailing lists, Presentations and Web Sites and Resources. Submit library resources here.
IA Tools include document templates, process map posters and other tools to help you in your practice. Submit your tools to iatools [at]iainstitute[dot] org.
This page was last modified on November 11, 2009 09:41 PM.