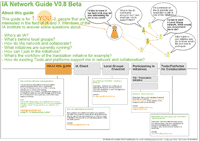 Creamos una guia de socialización para ayudar a las personas interesadas en el campo de la AI y miembros del Instituto para la AI a responder preguntas como...
¿Quién es un AI?
¿Qué hay que detras de los grupos locales?
¿Cómo se contactan y colaboran los AIs?
¿Qué proyectos estan llevando adelante?
¿Cómo puedo unirme a esos proyectos?
¿Cuál es el flujo de trabajo del proyecto de traducciones?
¿Cómo me ayudan las herramientas y plataformas a contactarme y colaborar?
[descargar]

Grupos Locales
¿Qué es un Grupo Local?
Un grupo local de AI es cualquier reunión regional consistentemente coordinada donde la gente discute temas relacionados con la arquitectura de la información. Las reuniones de los grupos locales de AI pueden tener una variedad de formatos y pueden variar en tamaño, frecuencia y nivel de formalidad.
Algunas reuniones pueden ser simplemente un encuentro casual donde las personas que se interesen se junten en un lugar especifico segun permita su agenda. Otras pueden ser reuniones mas formales con un presentador invitado o presentación. Sea cual sea el formato, los grupos locales de AI pueden ser buenos para contactarse, compartir problemas especificos de AI o simplente forjar la sensación de comunidad.
> Preguntas frecuentes sobre grupos locales de AI
> Ver los resultados de la encuesta de coordinadores de grupos locales
¿Qué soporte provee el Instituto para la AI a los Grupos Locales?
El Instituto para la AI puede proveer hosting para el sitio web de su grupo local, coaching uno a uno para líderes grupales, espacio de oficina virtual en SecondLife, y soporte de administración via Basecamp. Su grupo será listado en el Directorio de Grupos Locales de AI. También, la herramienta de geo-locación es una gran forma de encontrar miembros del Instituto para la AI en su región.
Para solicitar soporte, contacte localgroups AT iainstitute DOT org.
Directorio de Grupos Locales de AI

Alemania
Berlin
Berlin IA Cocktail Hour
http://berliniacocktailhour.blogspot.com/
Founded in 2007
Occasional meetings; blog
Presentations and Meetings at bars; average active membership 20-30
Contact: Jan Jursa at jan.jursa AT gmail DOT com
or Sabine Stössel at stoessel AT ubibene DOT de

Brasil
San Pablo
São Paulo IA Group
Founded in 2007
Contact: Carolina Leslie at www.lulileslie.com

Estados Unidos
Atlanta, GA
Atlanta IA Meetup Group
http://mcordell.googlepages.com/iaatlanta
Founded in 2006
Bi-monthly meetings and happy hours
Contact: Maria Cordell at mcordell AT gmail DOT com
Austin, TX
Austin IA Group
Founded in 2007
Currently in formation
Contact: Mike Steckel at MSteckel@gmail DOT com
Los Angeles, CA
Los Angeles IA Meetup Group
http://ia.meetup.com/55/
Founded in 2007
Contact: Chris Chandler at chris.chandler at gmail.com
Madison, NJ
Northern NJ IA Meetup Group
Founded in 2007
http://ia.meetup.com/54/
Contact: Bruce Esrig at esrig AT alumni DOT princeton DOT edu
Minneapolis IA/UX Meetup
Meets every first Tuesday of the month
5:00-7:00 pm
Contact: Kristi Olson at kolson AT evantageconsulting DOT com
New York, NY
NYC IA Meetup Group
http://ia.meetup.com/14/
Founded in 2003
Monthly meetups at cafes and bars
Contact: Anders Ramsay at andersr AT gmail DOT com
Philadelphia, PA
PhillyCHI
Meets once a month to network and discuss current topics in HCI.
http://phillychi.acm.org/
Contact: Crystal Kubitsky at phillychi AT gmail.com
Portland, OR
Portland IA Meetup
Meets every third Monday of the Month
http://ia.meetup.com/64/
Contact: Carla Pealer at cjpealer AT gmail.com
Richmond, VA
RUX Monthly Meetup
Yahoo Group: http://tech.groups.yahoo.com/group/richmondux/members?o=6
LinkedIn: http://www.linkedin.com/e/gis/107385/1EFC282D5597
Contact: richmondux-owner AT yahoogroups.com
Seattle, WA
Seattle Asis&t PNW & IA Meetup
http://www.asistpnw.org/
Founded in 1978
Meets 2nd Thursdays at Elysian Pub on Capitol Hill 7-9 pm
Contact: Aaron Louie ajlouie AT gmail DOT com or Corprew Reed corprew AT corprew DOT org
Washington, DC
DCIA
http://www.dc-ia.com/
Founded in 2001
Bi-monthly presentations and informal meetings at cafes and offices; jobs and events email list; 600+ members; average event size 10-25
Contact : Stacy Surla or Dan Brown at dc-ia AT yahoogroups DOT com

Holanda
Amsterdam
UX Cocktail Hours Amsterdam
http://groups.yahoo.com/group/UXCocktailHoursAmsterdam/
Founded in 2001
Bi-monthly presentations at bars and offices usually with sponsored drinks and snacks; average active membership 25-50
Contact: Peter Boersma at peter AT peterboersma DOT com
Inglaterra
London, UK
London-IA Yahoo! Group
http://tech.groups.yahoo.com/group/london-ia/
Contact: Claire Rowland claire AT usefulinc DOT com or Kate Simpson kate AT tangledom DOT com
Para agregar su grupo a la lista, contacte localgroups AT iainstitute DOT org.
Comienze y Promocione un grupo
Los Grupos Locales de AI han sido fundados por personas en muchas comunidades del mundo. No tiene que ser un AI para empezar su propio grupo; todo lo que requiere es un poco de tiempo y un interes en discutir temas relacionados con AI.
> Consejos para comenzar y promocionar su Grupo Local
Esta página fue modificada por última vez el 09 de Agosto del 2008 a las 08:38 PM.