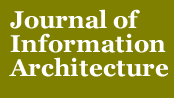 Experience the Journal of Information Architecture, an international peer-reviewed scholarly journal whose aim is to facilitate the systematic development of the scientific body of knowledge in the field of information architecture.
[read more]
Previous Grant Recipients
2012-13 Grant Recipient
As of the 2012-13 grant, the IA Institute will now award a single US $3000 grant instead of the two US $1000 grants we had awarded in the past.
The 2012-13 awardee is Sally Burford of University of Canberra, for her proposal, "The practice of web information architecture in small and medium enterprises". Download paper (.DOCX 62.7kb). Ms. Burford's work with co-author Lisa M. Given of Charles Sturt University was published in the Journal of Information Architecture in Volume 5, Issue 1-2, 2013.
2011 Grant Recipients
Due to an overlap in the academic schedule, both of the 2010 grant projects were delayed, requiring us to postpone the 2011 program until next year.
In lieu of an IA Progress Grant, the IA Institute presented a grant of $1500 to Emily Rinck of the University of Michigan School of Information to make it possible for her to accept an otherwise un-funded summer internship doing information architecture work on the Intranet design at the International Rescue Committee. We are proud of our role in helping Emily serve this esteemed organization which saves lives through its delivery of aid and relief to refugees around the world.
Please read about Emily's Summer at the International Rescue Committee.
2010 Grant Recipients
Terrence Fenn and Jason Hobbs, Johannesburg, South Africa
"Cognition Thinking in Information Architecture"
The first phase of the research will be presented at the DEFSA Conference 2011 (Design Education Forum of Southern Africa ) and at the European Information Architecture Conference 2011.
Tanya Rabourn, Austin, Texas, USA
"Designing Users: Design Discourse and User Personas"
2009 Grant Recipients
Neha Modgil, Mumbai, India
"'Emotional Scale' - Measuring User Feedback in Rural India"
Neha's paper aims to explore some of the drawbacks of Likert Scale, a widely used statistical tool for measuring attitudes, emotions, opinions and feelings. It is observed consistently and extensively by social researchers that Likert scale is not understood uniformly by various people across various regions of the world. Major reasons being levels of literacy and education, differences in perception of the terminology (good, very good, bad, very bad), avoidance of giving extreme responses (tendency to give safer responses than the genuine responses owing to social desirability).
This study attempts to gather responses on Culture specific scale which is devised as an alternate to the regular Likert scale, in rural and semi-urban India. It further attempts to provide a possible solution to the problem.
Download Neha's paper on "Emotional Scale" - Measuring User Feedback in Rural India
Javier Velasco-Martin, Santiago, Chile/Chapel Hill, North Carolina
"Exploring Intimate Self Exposure in Social Media"
Javier's study seeks to understand how we are sharing information in Social Media, and with whom. The research, while funded in part by the IA Institute, is part of his PhD project; therefore, we anticipate that his paper will take a bit longer to release, as it conforms to the University of North Carolina academic schedule.
Javier has conducted a large-scale international survey that compares self-disclosure across different computer-mediated communication tools for different communication scenarios. Preliminary findings have been presented at the University of North Carolina, Chapel Hill symposium, "The Curation of Social Media as a Public Asset," and have been submitted for presentation at several upcoming conferences, including:
Information about the survey is located at: http://www.unc.edu/~jvelasco/sm-survey2010/. Papers and additional deliverables will be published here as they become available.
2008 Grant Recipients
IA Progress Grantees are required to meet a rigorous criteria to qualify for an award. Due to a lack of qualifying proposals no Progress Grant was awarded in 2008.
2007 Grant Recipients
Marc L. Resnick and Amir Abou Baker, Miami, FL, USA
"The Effect of Scent on User Recall of Website Navigation"
When designing navigation menus there are some key factors usability professionals struggle with to ensure an easy to use navigation system. In the short term, the menu should support effective user wayfinding and confidence to accomplish the current task. Menus can also achieve longer term benefits by intimating the information architecture of the site, providing support for future tasks. The effectiveness of menu design hinges on whether these objectives are achieved. The focus of this study was the impact of label scent on user performance in navigation tasks. Labels of high and low scent were placed at two menu positions to measure the impact on the short term goal of finding a known item and the long term goal of developing an awareness of the information architecture. The results provide insights that can be used in the design of navigation menus.
Download Mark's paper on The Effect of Scent on User Recall of Website Navigation.
Andrea Resmini, Bologna, Italy
"Information Architecture Education in Europe"
Andrea Resmini from the University of Bologna, is researching educational opportunities in the field of IA in Europe. To this end, Andrea and his multi-national team have arranged a retreat in Sweden, scheduled for early August. Here, educators from across Europe will gather for two days to discuss how to improved educational offerings and coordinate curricula.
2006 Grant Recipients
Celeste Lyn Paul, Maryland, USA
"A Delphi Approach To Card Sorting"
Card sorting is a common IA activity which aids in information design. It can be a valuable tool in discovering important information patterns and testing the suitability of category organization labels. Although a widely used method, it has disadvantages which potentially effect how difficult results are to obtain as well as how reliable.
This presentation will introduce the Delphi method and how it can be applied to card sorting, as well as discuss some of the advantages and disadvantages. It is suitable for practitioners of all levels, however familiarity with card sorting and testing methods is recommended.
Download Celeste's paper on the Delphi Approach.
Jason Hobbs, Johannesburg, South Africa
"Communal computing and shared spaces of usage"
We are investigating Internet and Web usage in Internet Cafes in Johannesburg. The key hypothesis is that, unlike in developed contexts where the perceived use of Internet cafes is by travelers and those 'passing through', Internet cafes in developing contexts are the primary means of Internet connection for many people. They may travel some distance to use these cafes on a regular basis.
Research in Africa has shown that Internet cafes are often used by locals for business purposes or as a secondary venue for connecting when connections go down in private business locations.
Download Jason's report on Communal Computing.
Read our Press Release on the 2006 Grant Winners.
2005 Grant Recipients
Step Two Designs, Chippendale NSW, Australia
"Intranet Review Toolkit"
The Intranet Review Toolkit provides practitioners with a set of best practice guidelines to help evaluate the effectiveness of their intranet. Developed by Step Two Designs, the toolkit itself includes a comprehensive set of heuristics which allow detailed intranet reviews to be undertaken in the areas of functionality, design and strategy. The toolkit can be used in a number of ways and covers a range of intranet facets including home page design, site structure and navigation, search, page layout, and content strategy.
Download the Intranet Review Toolkit (200K Microsoft Word file)
Read our Press Release about the Intranet Review Toolkit
Matthew Milan, Toronto, Canada
"Tools for Information Environments"
Tools for Information Environments: Exploring Environmental Assessment Tools for use in Strategic Information Architecture, is a research paper exploring the use of mature environmental assessment tools in the context of strategic information architecture activities. The paper explores the nature of information environments and investigates the suitability of a pair of robust environmental tools, Backcasting and Cumulative Effects Assessment. A pair of short case studies is used to explore the value of these tools for use in discovery activities and strategic information architecture practice.
Download Matthew's paper on the Tools for Information Environments (130K Acrobat PDF file)
This page was last modified on June 27, 2014 05:27 PM.