Featured Partners
FEATURED PARTNER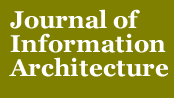 We are pleased to announce that the Journal of Information Architecture is now available online.
The Journal of Information Architecture is an international peer-reviewed scholarly journal whose aim is to facilitate the systematic development of the scientific body of knowledge in the field of information architecture.
Visit the Member Center for details on partner discounts.
Selected IA Books
Books Devoted to Information Architecture:
Books Including Information About Information Architecture:
For more books, see the Information Architecture group at Anobii.com and the editor's selections at Boxes and Arrows. Also, be sure to join a UX Book Club in your area. See a map of UX Book Clubs worldwide at http://iainstitute.org/en/network/localgroups/ux_book_clubs.php or visit http://uxbookclub.org to find out more.
This page was last modified on January 19, 2007 06:21 PM.