Learn: Next Steps
Learn: Features
FEATURED PARTNER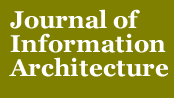 We are pleased to announce that the Journal of Information Architecture is now available online.
The Journal of Information Architecture is an international peer-reviewed scholarly journal whose aim is to facilitate the systematic development of the scientific body of knowledge in the field of information architecture.
Contribute Documents
We are actively adding new tools, articles and resources, particularly in languages other than English, to create a more well-rounded collection. If you know of a resource we should include, please send us your suggestion.
This page was last modified on June 4, 2012 07:29 PM.